Happy Friday everyone! I linking up with
Megan
at A day in the Life.... for book club Friday!
As i told you last week i finished
Something Borrowed and Something Blue.
I wasn't sure what i was going to read now, but i decided to stick with the Emily Giffin books and picked up
Babyproof.
I was not sure if i was going to love this book as much as i loved the other 2 books, because it is different characters, but as soon as i started i got sucked right in! I am about half way done and i am looking forward to giving you more of a review when i finish, so far i am sad about the unraveling of Ben and Claudia's relationship....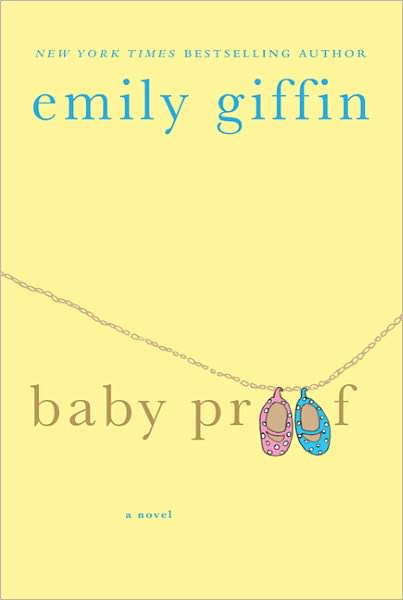 Overview:
From the author of the smash hits Something Borrowed and Something Blue comes a novel that explores the question: is there ever a deal-breaker when it comes to true love?
First comes love. Then comes marriage. Then comes . . . a baby carriage? Isn't that what all women want?
Not so for Claudia Parr. And just as she gives up on finding a man who feels the same way, she meets warm, wonderful Ben. Things seem too good to be true when they fall in love and agree to buck tradition with a satisfying, child-free marriage. Then the unexpected occurs: one of them has a change of heart. One of them wants children after all.
This is the witty, heartfelt story about what happens to the perfect couple when they suddenly want different things. It's about feeling that your life is set and then realizing that nothing is as you thought it was--and that there is no possible compromise. It's about deciding what is most important in life, and taking chances to get it. But most of all, it's about the things we will do--and won't do--for love.
I am still looking for a few more recommendations for my 101 in 1001 days, so if you have a favorite please tell me about it!
Can't wait to see what you are reading!
Today marks my 100th post on my blog! I am surprised i have written that many posts, when i started this blog i wasn't sure if i would be able to blog once a week! So i am happy i am still writing! I also want to thank all my followers, love you all!!! And i also love getting all the sweet comments my readers leave! Thank you!!!
TGIF!
Until next time,
<3